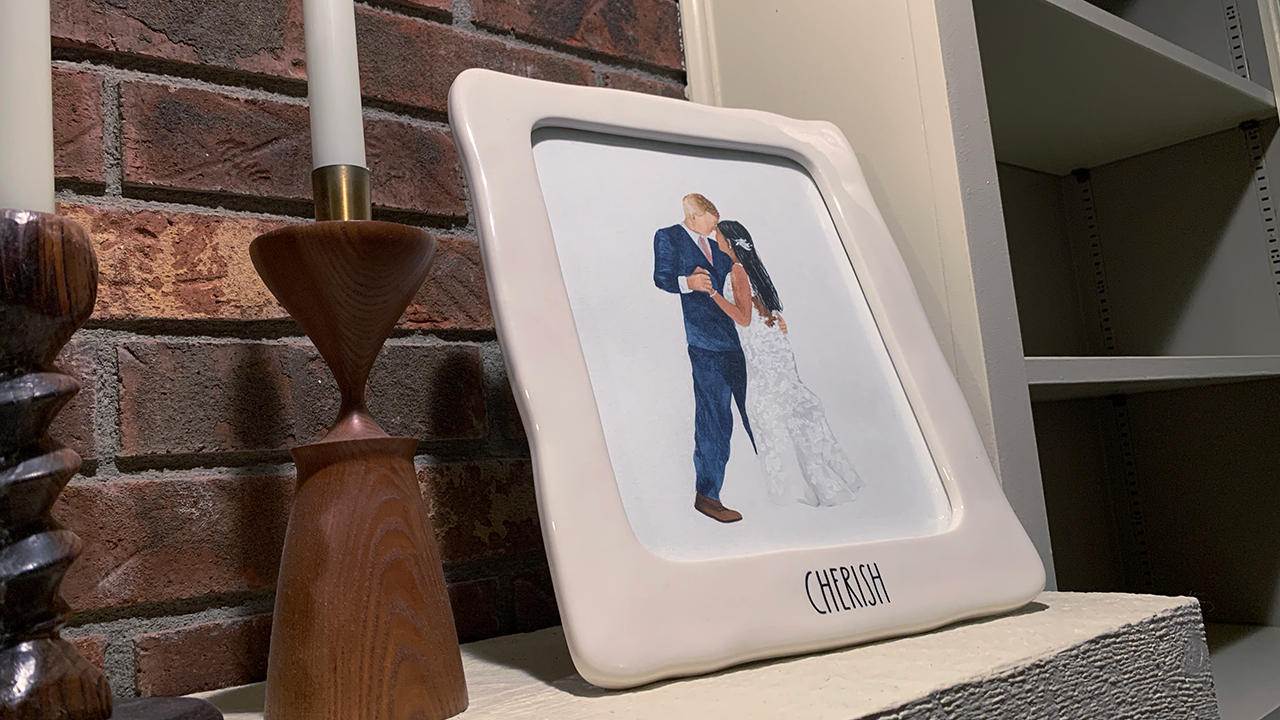 Nicole Oberhelman's house is small, cozy and full of character. Every corner tells a story. A painting of her wedding's first dance is next to the television. Until early March, the Christmas decorations were still on display. The party was very special this year, as it was the closest to a normal party she had had since the pandemic began.
Nicole's life has been turned upside down by the pandemic in the same way as others – she's switched to working remotely, quarantining her family members and wearing masks in public. But her specific experience over the past two years is not shared by all – she is the wife of a healthcare worker who has spent time on the front line.
Stories of the toll doctors and nurses have carried over the past two years abound, but their immediate family members — partners and children — rarely share that unenviable spotlight.
Nicole met her husband, Oberhelman Forest, 29, during their freshman year of college. They tied the knot in late 2019, just as Forrest was about to turn a page on his dream of getting his medical degree.
"You know, the first big step was him getting his medical degree, and it was a virtual degree," Nicole, 29, said. "And it was kind of the first kind, 'OK, we have to adjust.'"
When choosing a medical specialty for Forrest, they decided he would go into pain medicine and rehabilitation, or PM&R training. As a general rule, PM&R physicians almost never have to tell a patient that they have lost a loved one. Rather, they are the ones who strive to improve a patient's ability to move and their overall quality of life after surgery – and the Oberhelmans loved it. They thought they had figured out what training would be like.
But just two months into Forrest's training, he was removed from his PM&R rotations and deployed to care for COVID-19 patients at Indiana University Methodist Hospital in Indianapolis.
"Being a new doctor and having to call family members and say, 'You have a day to get to the hospital, I think your mother is being moved to intensive care; she may not last until tomorrow,' and never having formal training on how to deliver this news or how to deal with it was certainly difficult," Forrest said.
Forrest said he wouldn't wish that on anyone.
But delivering bad news wasn't the scariest part. In January 2020, Nicole was diagnosed with Hodgkin's lymphoma, a type of cancer that affects the lymphatic system, which is part of the body's immune system.
"I started going through treatment for that. And so I was like halfway through treatment when March came around," Nicole said. "And, you know, when we found out he was going to be working with a lot of COVID patients, we certainly had concerns."
The cancer treatment weakened her immune system and left her vulnerable to COVID-19. It was agonizing for her to know that her husband was in the hospital every day, face to face with a deadly virus that everyone knew so little about at the time – there was no vaccine or treatment available then. the horizon.
Like most people at the time, they didn't know the best way to stay safe, so they invented their own system. They still lived together, but every day after work, before any interaction, Forrest threw his clothes in the laundry and jumped in the shower.
"And, you know, the moment he was all clean and all like that, that's when we can start our routine at home saying, 'Hello, we live together, we're married. Now let's hang out together," Nicole said.
Because Forrest saw COVID patients every day, they were strict about staying home and keeping their distance from loved ones, especially older family members. This meant Nicole went through most of her cancer treatment on her own.
"You think about going through a serious illness like that, and you really need a lot of that support," she said. "Forrest went with me to my first chemo and then the rest of them, I was on my own. And so it was really hard. Not having someone there to distract me from what was going on.
Her mother would drop off pots of Filipino comfort food and she would talk to her friends on the phone, but it wasn't the same as in-person support would have been.
"You know, when someone's really sick, it's usually like, 'Oh, I'm going to come visit you. Oh, I'm going to bring you dinner. Oh, I'm going, you know, to do xyz things in person to support you," she said.

Family members also deserve thanks
Forrest said healthcare workers got all the credit, but their immediate family members weren't given enough recognition. With all that his wife had been through, she was always his safe space to "recharge" and debrief after traumatic experiences.
"It was very stressful being in the hospital for 60 to 80 hours a week as an intern," Forrest said. "Just having the support of my wife back home…I think that's probably the most important thing that got me through it all. So I'm very lucky.
Nicole is a school psychologist for children with disabilities and has worked remotely for over a year. Many of her friends and family who worked virtually also had spouses working from home, but being a doctor's wife meant that couldn't be a reality for her.
"I was a little jealous that they could see their spouse a lot more often and kind of share a lot of responsibilities," she said.
It hit her even harder when she became a new mother as they had their baby girl Alina in the summer of 2021.
The Oberhelmans were unable to hold a baby shower; they were unable to stay in their new accommodation which they purchased in June 2020; they had no play dates for Alina when she was born. And they didn't take a trip to Ireland, which they had been planning for years.
But things are starting to look up a bit. It will be two years in June since Nicole's cancer went into remission. They were vaccinated, as were older family members. And it allowed them to expand their social bubble to include extended family.
The dining room and living room are lined with many baby toy chests, most of them larger than Alina's size. Nicole said their family gave Alina "a mountain of toys for Christmas."
Nicole said they're taking it one day at a time, enjoying some sort of normality while it lasts.

This story comes from a reporting collaboration that includes Indianapolis Recorder and Side Effects Public Media – a public health information initiative based at WFYI. Follow Farah on Twitter: @Farah_Yousrym.