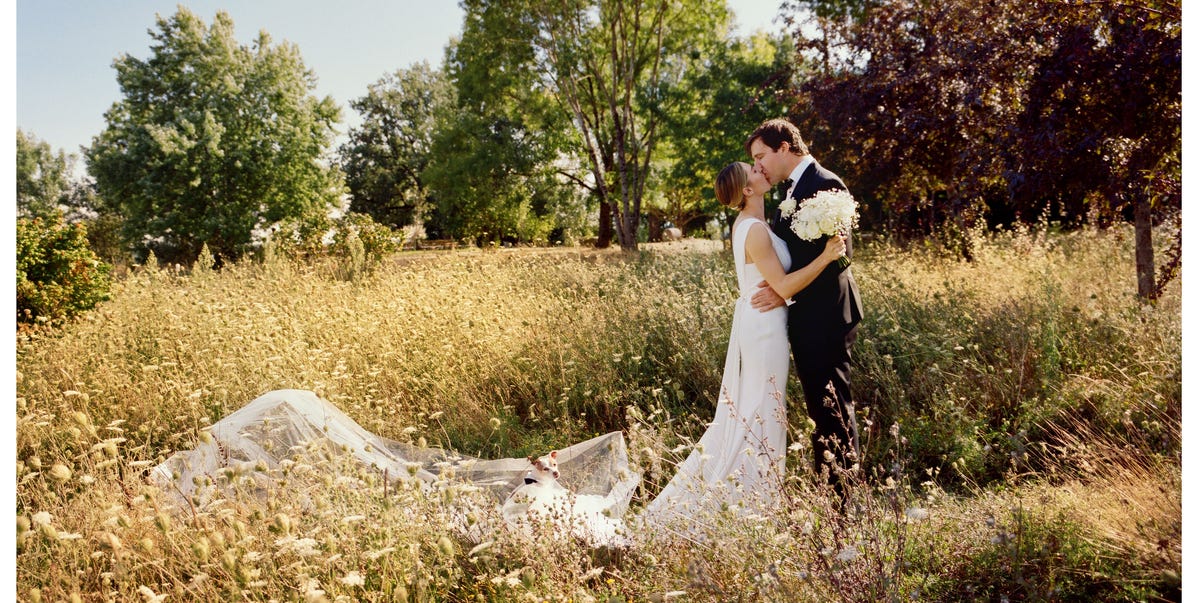 When it comes to planning a wedding, it helps to have a design legend in the family. This was the case for the nuptials of Courtney Wartman and Otis Weis last summer. The groom's mother is famed English-born interior designer Kathryn M. Ireland, who also owns a charming 1740s farmhouse called La Castellane in the French countryside that she's been perfecting for three decades – in other words. terms, the perfect wedding venue. "Here and in most of south-west France, the weather is at a standstill, unaffected by modern distractions with very little tourism," says Courtney, Creative Marketing and Brand Director of Free People Movement . "It was so nice to be in our own bubble."
Last August, more than a hundred relatives of the couple came from all over the world to experience five days of bucolic happiness. There were alfresco dining at local restaurants, sunny gatherings at friends' chateaux, and plenty of regional food (and wine) delights to savor. Below, all the details on Courtney and Otis' idyllic French wedding.
Advertising – Continue Reading Below
After spending countless Thanksgivings, birthdays and long weekends at Kathryn Ireland's impeccably designed La Castellane in the French countryside, Courtney and Otis wanted to share their precious hideaway with friends and family. Its isolated location, 30 miles from Toulouse in the village of Verlhac-Tescou, was also ideal for Covid times: all the events that took place during the 5 days of celebrations took place in private castles or restaurants local. "They were isolated from our group," Courtney says, "in the best way possible."
On the first evening, Courtney and Otis hosted only their friends for dinner on the terrace of Vigne en Foule, a restaurant in nearby Gaillac. "It was important to us that our friends all had a chance to mingle and we had time with them before mingling with family," she says. The following evening, Otis' godmother, actress Fiona Lewis, and her husband, producer Art Linson, hosted a welcome party for family friends at their castle – Daniel de la Falaise cooked. Next, the couple attended their second welcome party of the night, this time with friends, where sliders, pizza and tequila were plentiful and a DJ spun all night.
For the wedding day, the Israeli designer Lihi Hodwho studied with John Galliano at Dior, was responsible for the bride's silk crepe gown, which she paired with a cathedral veil by Oscar de la Renta (as seen below).
Jessica Busiashvili, founder of the high jewelry brand BEEF, takes care of the most important embellishments of the day: she makes the bride's engagement ring as well as the couple's wedding bands. As for other notable accessories? Courtney's heels, by Amina Mouaddi, kept her comfortably on her feet all night and most importantly, featured a unique design so they wouldn't sink into the grass. "They were heaven," she says.
Otis wore a Paul Smith tuxedo and Giuseppe Zanotti shoes.
The couple were married under an arch of peonies, roses and baby's breath by their friend Daniel Constable. Anne, mother of the bride, and Gary, father of the groom, shared readings.
"I love a lucky omen," says Courtney, who has observed the tradition of incorporating something old (her earrings, a mix of gifts from Otis, family and friends) , again (her dress and veil), from borrowed (her mother's diamond necklace), and blue (an evil-eye pin worn under her dress).
The mother of the groom, Kathryn Ireland.
Charles, the couple's Jack Russell Chihuahua.
One hundred and fifty guests, including actress Maria Bello, chef Dominique Crenn and interior designers Martyn Lawrence Bullard and Barry Dixon, arrived from Ireland, Italy, the UK and as far afield as India and California to celebrate the couple.
The flowers for the festivities were orchestrated by Patrice de Zest Flowers in Montauban. Custom menus were designed by Jill Price. And three wedding planners executed the 5-day event: Elizabeth Freise, Léo Doumenge, and Clémentine and Mark Ward, the husband and wife team behind Reward marriages.
The wedding venue wasn't the only family element of the week. All napkins and tablecloths for each event were provided courtesy of Otis Textilesa line of fabrics founded by the groom and his mother.
Three long tables lit with the romantic glow of candles and tinsel helped create a formal European dining ambience. According to Kathryn's instructions, the couples were placed facing each other rather than sitting side by side. "It's a fantastic conversation," Courtney says.
The daily menu was a celebration of the region. At happy hour, there were oysters from Arcachon, foie gras from Gaillac, a plethora of local cheeses and French-style mini tacos (a nod to the couple's love of cooking Mexican). Later in the evening, guests sampled mussels, clams, Arcachon sea bass, chicken with truffled potatoes and Moroccan-style lamb cooked over a wood fire for 12 hours. The wedding cake, meanwhile, strayed from the French style – vanilla with chocolate chips and a concoction of white buttercream was a tribute to LA Hansen Cakes.
It wouldn't have been a summer wedding in the countryside without an abundant supply of rosé. Wines from Chateau La Coste and Castle of Saurs kept the bar well stocked and made sure no one was ever thirsty. Additionally, in honor of the couple's love of Mexican cuisine, tequila and mezcal were shipped from Oaxaca.
The following afternoon, guests were invited back to La Castellane for a casual post-nuptial lunch for which the couple hired a local pizza truck and served the rest of their wine and cocktails. "It was exactly what we needed," Courtney says.
The newlyweds took full advantage of their surroundings as they embarked on "the ultimate European road trip" for their honeymoon. On the program: Aix-en-Provence, Nice, Portofino, Tuscany, Rome and Positano.
This content is created and maintained by a third party, and uploaded to this page to help users provide their email addresses. You may be able to find more information about this and similar content on piano.io
Advertising – Continue Reading Below