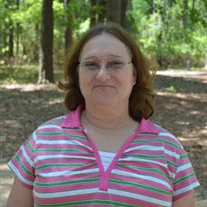 Sandra Ann Upright Mooe62, of Cleveland, North Carolina, died Nov. 14, 2022, after a fierce battle with cancer.
She was born to Sam and Ann Upright on December 29, 1959. At age 16, she started driving a school bus for her high school. She was passionate about working with people with special needs. After graduating, she was hired by Mooresville Graded Schools to serve students with special needs as a teacher's assistant and bus driver. The students loved him, and they were all his "babies!" She also took care for many years of her brother who has mental and physical disabilities.
Sandra loved her husband Kevin fiercely! In 45 years of marriage, they shared many adventures. They liked to camp and fish together whenever they could. Together they raised two daughters. Gramberry – a nickname given to him by his grandchildren – loved his grandchildren.
Sandra could usually be found with a crochet or knitting project in hand until the progression of her illness made it impossible. She loved making things for others, and she especially enjoyed making blankets, sweaters, and hats for babies. She helped start a baby blanket ministry at the neighborhood church and also enjoyed making hats for other cancer patients.
Sandra was a kind person with the heart of a servant. She would do anything in her power to help someone else.
She is survived by her husband Kevin Mooe; daughters, Dawn Linebarrier (Gary) and Leigh Ann Kyles (Shannon); grandchildren, Damon Kyles, Noah Linebarrier, Lydia Linebarrier and JoyAnna Linebarrier; Father Sam Upright; siblings, Allen Upright (Melody), Kathy Martin (William), Ted Upright, Joyce Ketchie (Mike) and David Upright; and several nieces, nephews, aunts, uncles and cousins.
A memorial service is scheduled for 2 p.m. Saturday, November 19, 2022 at Beulah Heights Wesleyan Church, 108 Emmanuel Road, Troutman, NC 28166.
In lieu of flowers, please consider making a donation to the American Cancer Society in its name.
Cavin-Cook Funeral Home & Crematory, Mooresville, serves Mrs. Mooe's family. Condolences can be presented to the family at www.cavin-cook.com.