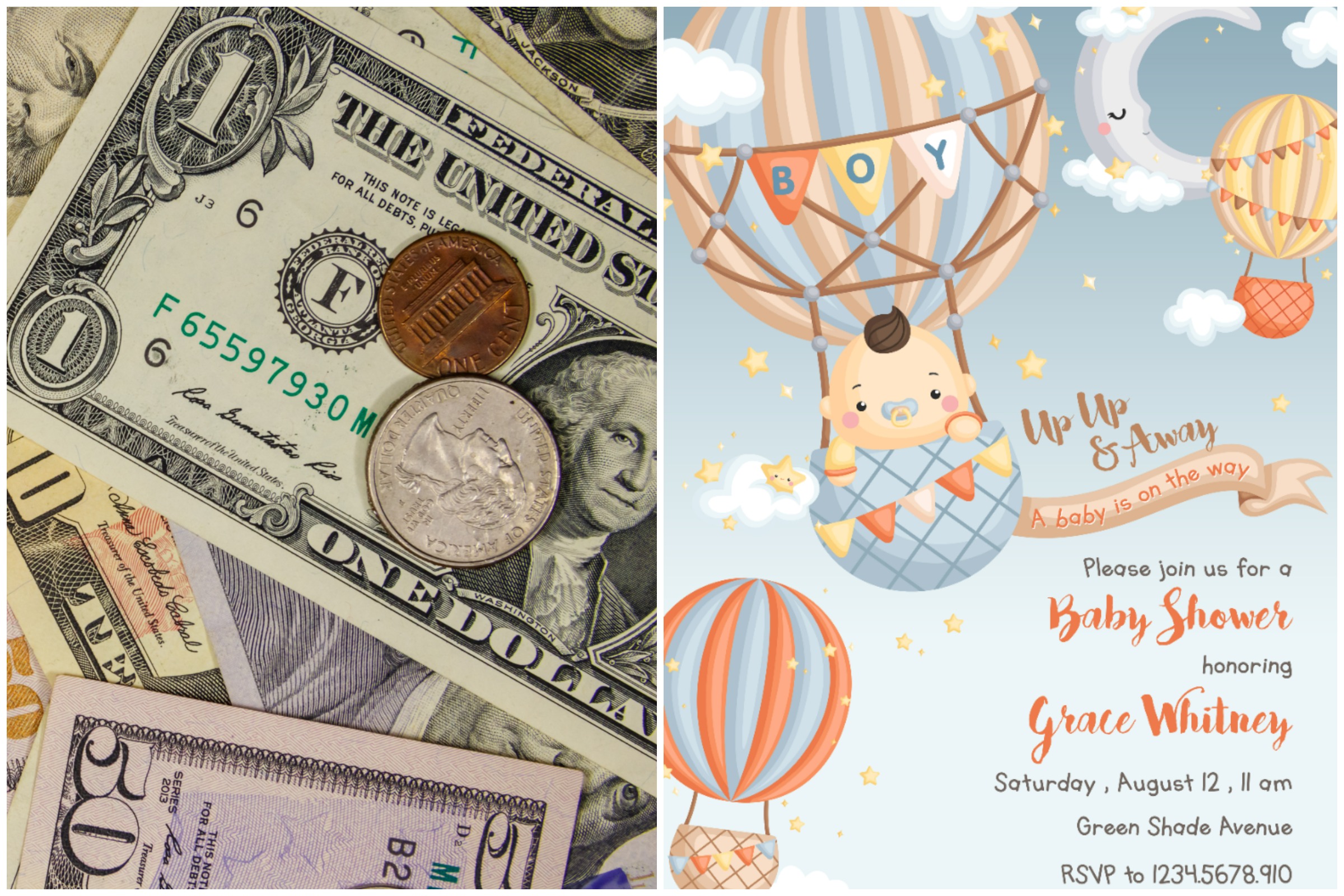 A man has been called 'shameful' after admitting he planned to take all the money given to him and his wife at their baby shower.
The soon-to-be dad shared his situation on Reddit's Am I The A** Hole forum under the username Engorgedclips, where he explained that his wife was due to give birth in May.
The 29-year-old wanted to throw a lavish baby shower for his 24-year-old wife, who preferred a smaller, cheaper party.
But he stuck to his guns and rented a venue for $2,500, saying, "I wanted to make a big deal out of it to make my wife feel special."
After shelling out for the party, his account was empty, as he continued, "My wife wanted something smaller initially, but I wanted to do the mixed thing and invite my friends and family too. After paying for the place, my account was depleted and I won't be paid for 2 weeks.
"So I took all the money we were given in the form of cards and deposited it into my account. We ended up getting about $1,600, so I ended up paying less than $1 000 dollars for the shower."
Difference of opinion
He claimed that while he probably should have planned a little better in advance, he felt his wife was "ungrateful".
"My wife is upset about this because she thinks the money should be used for more baby stuff and not 'pay me back' as she said. I told her I couldn't have $0 in my account for 2. weeks, and she said I should have thought about that before booking such a big space for the shower instead of doing something smaller like she originally wanted.
"She's also upset because the majority of the money came from her family. Honestly, I just assumed that all the money we got was to pay for the shower, and she assumed it would be for whatever we wouldn't have it on our registry," he said.
Although he added, "I'll probably use the money for baby stuff anyway, but I also need money for gas and food."
According to the Children.costhelper.com website, a baby shower can typically cost between $100 and $1,000, depending on the number of guests, which is usually 15 to 40.
He noted, "Many baby showers are held in a house with nibbles provided by the host or hostess."
Other things to consider are the cost of invitations, food, decorations, venue hire, games and activities.
The Reddit post, titled: "AITA for keeping all my wife and me's baby shower money?" has since amassed more than 10,000 upvotes since it was posted on Tuesday.
Velvetalocasia wrote, "That was my first thought! This guy doesn't care about having a baby, he can't even throw a party without breaking the bank."
Delkarnu wrote: "$2,500 is both a very large amount of money to spend on a party and a very small amount of money to have in the bank with a baby on the way. Especially if the wife was working while the 2,500 was saved and they will lose that second income for a while when the baby comes."
Aabbccbb commented, "Yeah. And he went with a bigger venue so his friends could come…and most of the money came from his side. AKA he threw himself a party with the money from the OP's baby."
Beckdawg19 wrote, "I think most of the baby showers I've attended have been at a venue, but they've all been cheap like parks or casual restaurants. We paid $50 for my venue. sister. $2,500 is absurd."
TopRamenisha revealed, "My WEDDING venue was under $2500 to rent."
DancinginHyrule pointed out, "Your wife is absolutely right. And it must be scary to have a month due with a man who spent 2500 on a party, knowing he technically couldn't feed his family for the next two. weeks. YTA, what the hell where do you think? What if no one gave any money? Then what?"
Toss_it_out_tomorrow thought: "This gives some insight into how this kid is going to go through life. OP is impulsive and irresponsible in addition to being thoughtless, inconsiderate and now self-centered. OP you are a shameful AH. YTA ."
In response to the backlash, the dad added a number of lengthy updates, and it appears he ended up admitting he made a "reckless, impulsive decision because I wanted everyone to see that I I could support my family".
He added: "My decision to take a lavish shower was based on insecurity more than anything and I was wrong for that…
"I haven't even thought about the money being for the baby and I haven't considered putting it in savings for him, but I like that idea. I've never been to a party prenatal, so I didn't know better.
"Those of you who said I would have to suffer for the next two weeks are right. I will give the money to my wife and let her decide what to do with it."
Newsweek has contacted Engorgedclips for comment.