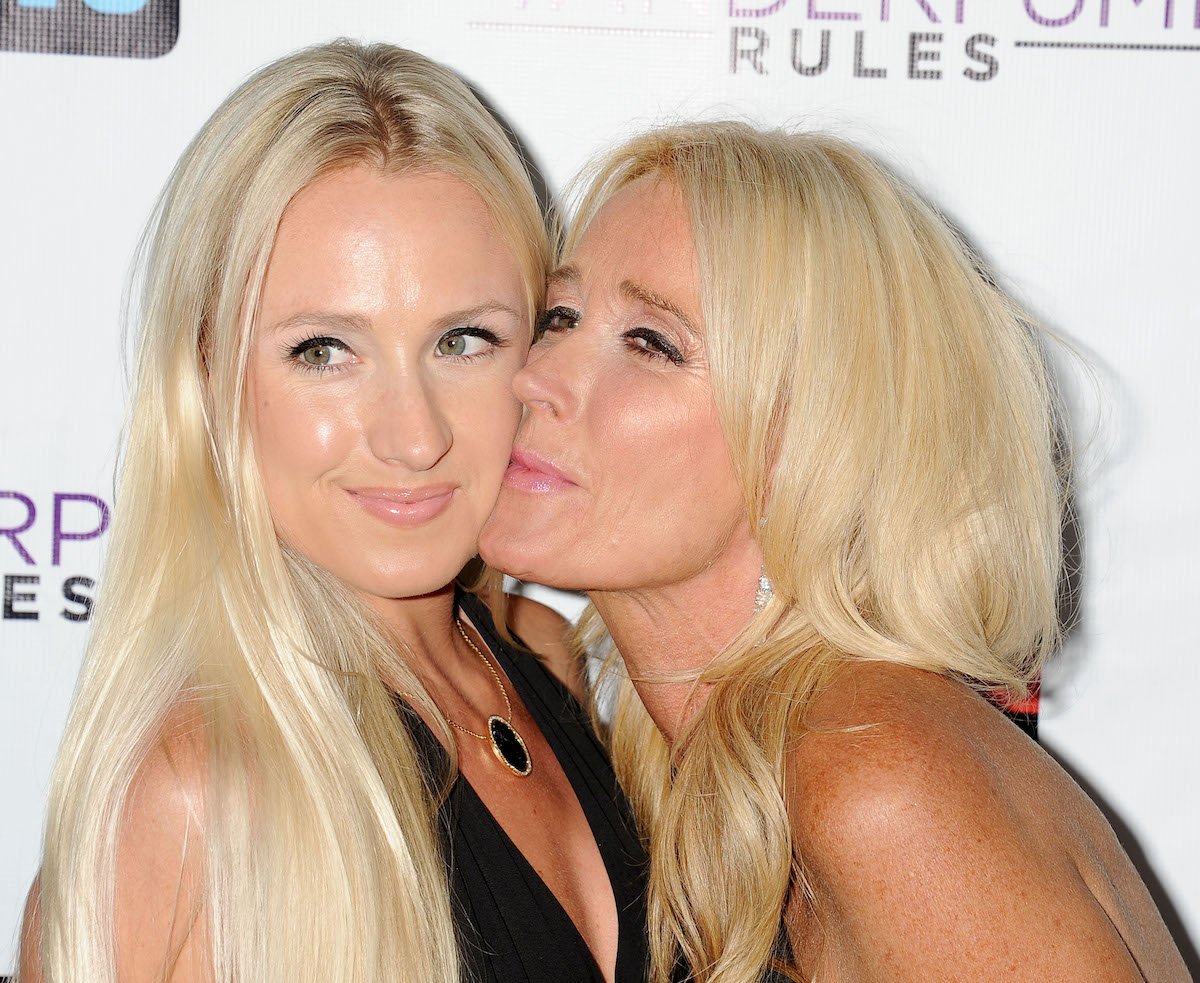 The Real Housewives of Beverly Hills constantly brings the drama – not only on screen but also in the off-screen happenings of its cast members. RHOBH has been on the rise since its debut on Bravo in 2010, giving fans plenty to talk about. Recently, Kim Richards' daughter, Brooke Brinson, made headlines when federal agents raided her home.
The reality TV star quickly erased her social media presence in the wake of the scandal. But fans dove deep to learn more about the raid and the allegations against Brinson's husband, Fatburger heir Thayer Wiederhorn.
Federal agents recently raided the home of Brooke Brinson
Radar Online recently reported that in December, federal agents raided Brooke Brinson's home which she shares with her husband, Thayer Wiederhorn. The raid was part of an ongoing money laundering investigation involving the Wiederhorns, owners of the Fatburger restaurant chain.
Although the primary target of the investigation is chief executive Andrew Wiederhorn, his son, Thayer Wiederhorn, is also named in court documents, according to Radar Online. The report notes that officers seized phones, digital storage, tax documents and other documents from Brinson and Widerhorn's home.
Brinson was quick to deactivate his Instagram account, but the media is already detailing the investigation. The Los Angeles Times reports that although court documents do not mention Brinson's name, the allegations against the Wiederhorn family are serious and include "millions of dollars in fictitious loans."
Brooke Brinson's Marriage to the Fatburger Heir Was a Big Moment on 'RHOBH'
It's unclear what legal ramifications could befall Thayer Wiederhorn and Brooke Brinson as the investigation is ongoing. However, Brinson has a long-term relationship with Wiederhorn and may be called upon to provide more information as the investigation progresses. Wiederhorn and Brinson tied the knot in 2014 after a year-long engagement.
RHOBH aired the extravagant wedding, hosted by Brinson's aunt, Kathy Hilton. According to 2Paragraphs, Fatburger trucks served food after the ceremony. Brinson was a guest on RHOBH several times, although she was never one of the main cast members. However, her marriage to the fast food heir has garnered a lot of attention from viewers.
As if one big wedding wasn't enough, Brinson and Wiederhorn tied the knot for a second time, in 2015, in Mexico, Distractify reported. The second ceremony was much smaller, featuring mostly family and close friends. Brinson's cousins, Paris and Nicky Hilton, were bridesmaids.
At the wedding, Kim Richards gave a sweet toast where she told Wiederhorn, "nothing feels better in my heart knowing that if my daughter isn't with me, she's with you," People reported.
The couple have 2 children
Since getting married, Brinson and Wiederhorn have welcomed two children. Their son, Hucksley Andrew Wiederhorn, was born in September 2016. A second son, Hunter Montgomery Wiederhorn, arrived in April 2019. Brinson's aunt Kyle Richards hosted the second baby shower. It featured fun touches such as a cotton candy burrito station, birthday cake for each guest, and an elegant courtyard lunch.
Kim Richards has been a doting grandma, posting gushing captions on social media.
"I am so proud of my little girl. Seeing her bring this world to life was by far the most amazing, amazing experience of my life! He's handsome and perfect!" Richards wrote on Instagram.
Brinson and Wiederhorn have the means to give their young sons a lavish lifestyle — the Fatburger heir's net worth is said to be around $145 million, according to Celebpie.
The future is uncertain for Wiederhorn and Brinson in light of their recent legal troubles, but fans will stay tuned to see what happens for the reality TV favorites.
RELATED: 'RHOBH': What Is Kim Richards' Net Worth?