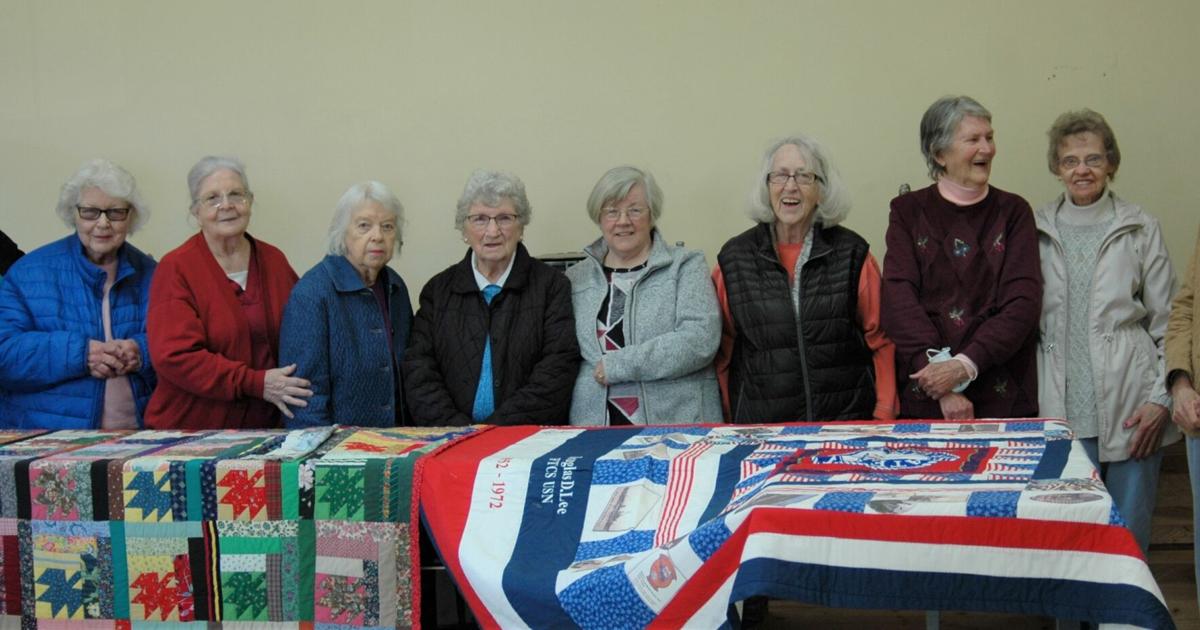 In the biblical mission
Dans la Bible Mission meets every Sunday morning at the Cathey's Creek Community Center, where they have met for several years. They enjoy good gospel music and the sermon is by Reverend Pete Lee, pastor of the church. Visitors are always welcome.
crafty ladies
The Crafty Ladies meet on Monday afternoon at 1 p.m. at the CCC. Last Monday, the ladies brought their "treasures", handmade quilts. We had the best turnout in a while. There was a wide variety of quilts. Each one is unique and tells a story. Next week we will have more instructions on how to cut, choose fabric and layout. Knitters can participate, and we always like to talk, share time with each other.
Saturday night music
It was a freezing Saturday evening. I think the wind was blowing pure ice. But we had a good turnout for food and music. Sorry we ran out of food for those who came hoping for good country cooking. The music was great and we think the musicians enjoyed sharing their talent. The next second Musical Saturday will be April 9 with Mack Anderson and his family. We are planning a hot dog dinner.
jam session
Don't forget the Jam Session this Thursday, March 17, from 7 p.m. to 9 p.m. Pickers are welcome to come and play. Acoustics only with the exception of bass guitar. It's a friendly moment for musicians to share their talent. Cake and coffee will be offered.
Dean Chapman
We learned with regret of the passing of Roy Dean Chapman on March 7th. He was 62 years old. He was predeceased by his parents, Roy and Scrub Chapman. Dean grew up and lived his whole life in the county of Transylvania. He leaves to mourn his children and granddaughters whom he adored and who will be so missed by their "Pop". A funeral service was held Monday, March 14 at Blue Ridge Gardens of Memory. Prayers for the family.
Birthdays
I wish Erin Barton a very happy birthday on March 22. May God bless all March birthdays.
Give 5, read 5
For the ninth grade, Rosman Elementary is collecting new and gently used children's books. Books will be distributed to all students in our building for the purpose of building their home libraries. For more information or to arrange a book pickup, please contact Crystal Whitman (RES Education Coach) at [email protected] or call (828) 885-6750. Thank you for helping our readers grow.
The window
On Sunday, Miss Rita had given the great-grandparents a kite, and on Monday they were running and playing outside trying to get the kites to fly, when they took flight. They were shouting with joy. They were having so much fun that their big sister came to join them.
Rent the CCCC
For more information on renting Cathey's Creek Community Center, please contact me at 883-8753 or call or text (828) 384-0116. More events are happening at the community center, especially now that the promise of warmer weather is here. Everything from meetings, baby shower, birthday party, music, of course, political events and soon tag sales.
Email news to [email protected] or the numbers listed. Thanks for reading and have a good week. Enjoy St. Patrick's Day. Go green!